Welcome to Aquostic Elements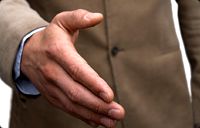 If we are not the best we are among the best!!
Aquostic Elements focuses entrepreneurs to establish, manage and promote their businesses by working around the traditional four p's (product, price, promotion, place) foundation and many other marketing components. We design methods which help the entrepreneur market their products or services at a competitive advantage over their competitors.
With the economy in recession we believe that it is essential to encourage South Africans to start their own businesses so that we can have a chance to fight poverty, unemployment and crime. Unfortunately the majority of our youth is unable to start and maintain their businesses due to lack of information, knowledge and funds.


Why Choose Us

Quality Service
We do not compromise on quality

Professionalism
We adhere to the highest level of Professionalism

Strategic Approach
We design the right solution for you, as easy as A, B, C